The bride's journey before her wedding day is a unique celebration, and selecting the perfect saree is essential for pre-wedding photoshoots, whether they follow a traditional, fantasy, retro, or romantic theme. As a bride, these five saree choices seamlessly complement the chosen theme.
This blog will discover five essential saree collections to elevate your pre-wedding photoshoot wardrobe.
These sarees go beyond mere fabric; they symbolise your individuality and the precious moments leading up to your enduring marriage. Unlock the moments of pre-wedding saree selections and uncover the perfect outfits to make your moments truly unforgettable
Here are the saree collections that perfectly match your pre-wedding photo shoot themes:
Kanchipuram Saree
Georgette Saree
Kora Designer Saree
Organza Saree
Banarasi Saree
Your choice may be anything that suits you but, the right jewellery and saree colour combination elevates your appearance to the theme; it adds depth, emotion and beauty to the moments.
1. Look Royal in Kanchipuram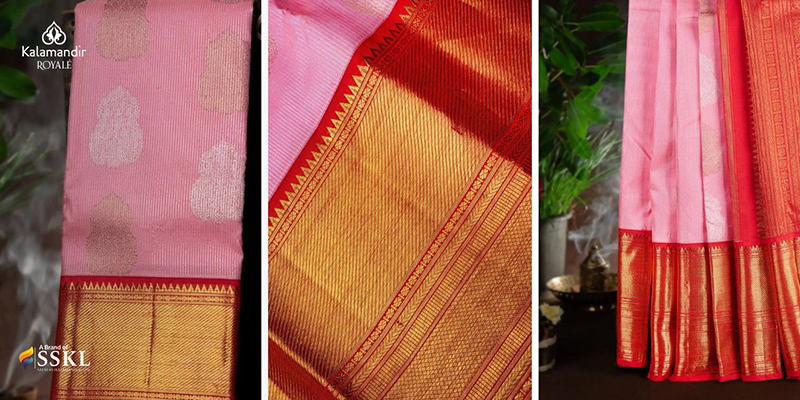 If you are planning for a Royal-themed photoshoot choose the enchanting Kanchipuram silk sarees, celebrated for their intricate Zari work with shimmering gold and silver threads to celebrate your love story as bright as your saree.
These sarees emit sheer beauty, enhancing your appearance in both daylight and evening settings, their radiant charm further accentuated by artificial lighting. Elevate your daytime look with soft pastel shades like powder blue, soft pink, and lavender, and for evening elegance, opt for captivating colours such as deep red, royal blue, and emerald green

For years Kanchipuram has been the best choice for many saree lovers who want to glow themselves in Traditional attire.
2. Gorgeous in Georgette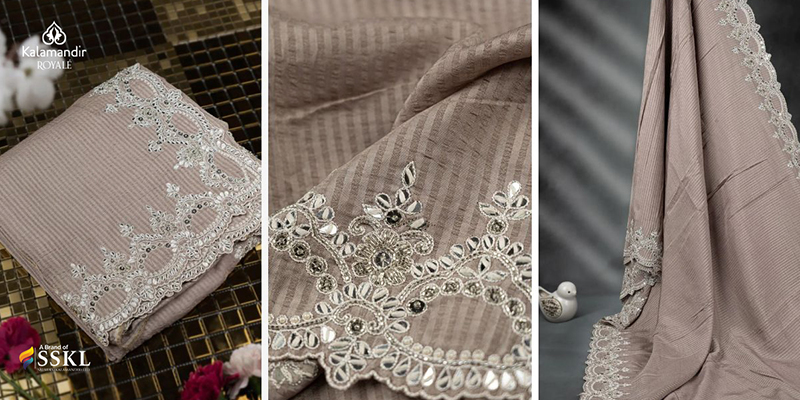 If you prefer a contemporary photoshoot as your theme to capture your romantic moments with your partner, the Georgette Saree brings together your natural grace, revealing your inner beauty with its dreamy and airy quality. This soft, flowing fabric seamlessly blends modern elegance with the timeless charm of traditional attire.

Georgette sarees are cherished for their natural shine achieved through silk weaving. They are lightweight, allowing for effortless draping in various styles, ensuring comfort throughout the day.

To beautifully capture those intimate moments, choose a Georgette saree that imprints memories to last a lifetime.
3. Shine in Kora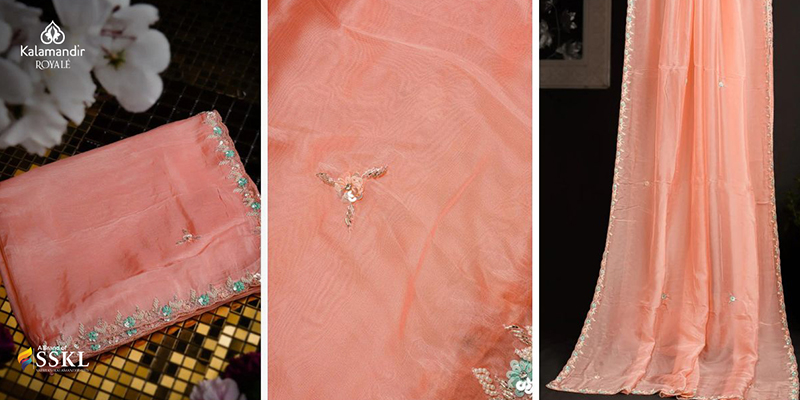 Kora sarees turn your love story into a masterpiece, rich in colour and elegance. For cherished wedding moments, Kora remains a photogenic preference.It serves as a canvas that highlights the bride's natural beauty, providing both comfort and a captivating glow under the light.

Kora saree is the perfect choice for those who appreciate artistry in their attire. Its vibrant colours and unique patterns cater to artistic tastes.
4. Graceful in Organza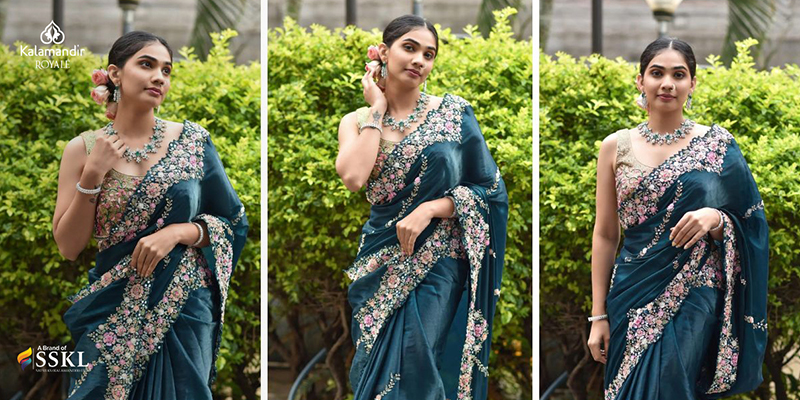 Enter the realm of your fairy tale dreams as you wear an Organza saree, capturing your most cherished moments with the grace of your attire. It's the ultimate choice for brides who favour style over tradition, exuding an elegant charm. The soft pastel shades under the golden hour's embrace add to its charm.

Organza sarees, known for their Transparent, airy texture, leave a lasting impression with their unique style.
5. Beautiful Bride in Banarasi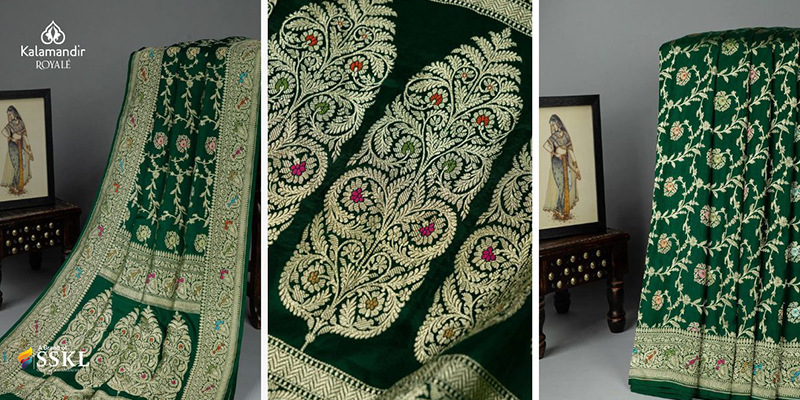 If you have an appreciation for tradition, why not delight your loved ones with the elegance of Banarasi sarees? These sarees are celebrated for their regal elegance and famous artistry of silk weaving. Your stunning appearance will undoubtedly capture your partner's attention, creating heartfelt and cherished moments.

Wrap yourself in the timeless tradition and beauty with Banarasi Saree. Embrace the auspicious moment with its grace and enhance the beauty of these moments.

Kalamandir Royale – House of Best Bridal Sarees
When it comes to choosing bridal attire, Kalamandir Royale stands out as a premier destination for wedding sarees.
Each saree at Kalamandir Royale manifests the core of the rich weaving heritage of our country, making your choice not only beautiful but also deeply rooted in tradition.